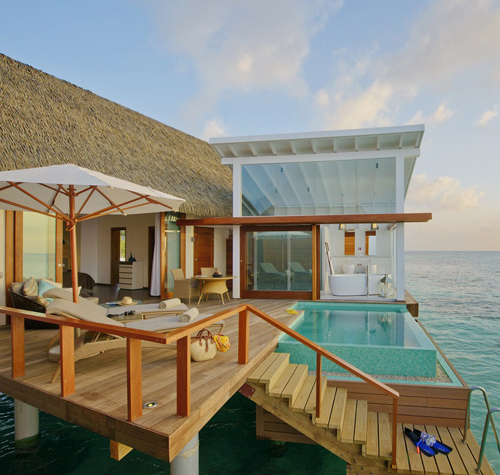 Even in the Maldives, an island so perfectly formed as Kandolhu is rare. Measuring just 200 meters by 150 meters, the island is lush, with wide sandy beaches surrounding the emerald green ocean. The island is also home to one of the most pristine, colorful, and lively reefs in the Maldives. Easily accessible from all around the island, you will find large table corals as well as many clown fish living in sea anemones.
Offering just 30 villas in 5 different styles, both over the water and on the beach, Kandalhu Island resort is perfect for couples wanting some alone time in paradise. The distinctive natural elements of the Maldives are perfectly combined with contemporary architecture and modern amenities in creating an experience so memorable that it will stay with you forever. All villas feature Maldivian architecture with modern interiors. They are all set in prime locations with either direct beach access or clear views to the Indian Ocean. All villas feature king-sized bed, air conditioning, fan, an iPad for guest use, sound dock, flat-screen TV with varied channel list and on-demand movies available, IDD telephone, mini-bar and mini in-villa wine cellar, espresso machine, kettle, hairdryer, electronic safe, iron, ironing board, bath and beach towels, bathrobe, bathroom slippers, Voya bathroom amenities, rechargeable torch, and Wi-Fi. All villas also feature sundecks with sun loungers and sun umbrella.
Facilities on the island include a 24-hour reception, with a small library where you can find books and magazines in different languages as well as several board games, and a terrace area offering beautiful ocean views. Wi-Fi is available widely around the island including most public areas and guest villas. A small boutique on the island offers local items, toiletries, apparel, postcards, and a selection of souvenirs. Bespoke renewal of vow services are also available on request.
Hotel Amenities
» Banquets & Meetings
» Fine Dining on Site
» Fitness Center
» High Speed Internet
» Pool, Outdoor
» Spa Facility
Available Activities
» Beach
» Boating
» Ecological Tourism
» Jogging & Running
» Sailing
» Scuba Diving
» Shopping