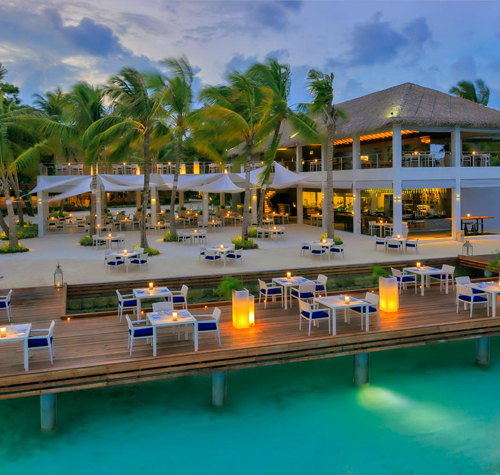 Kurumba Maldives hotel is Maldives' first resort and one of its finest. Talcum white beach with lush coconut palm trees leaning over, a coral reef teeming with marine life ideal for scuba diving and snorkelling, villas with or without private pools steps from the beach and seven fine restaurants make Kurumba ideal for a honeymoon, a romantic interlude or a family holiday.
Here serenity and seclusion complement joie de vivre. Go barefoot, be served on the beach, dine by the moon and candles. Or dress for dinner and dance into the morning. The Kurumba housereef is home to coral growing on ancient volcanic mountains and a thousand different variations of stunning fauna.
Named after the coconuts that grow in abundance throughout the island, Kurumba Maldives pioneered tourism in the Maldives in 1972. It re-opened in 2004 as a classic resort of distinction, class and style and run with panache. Kurumba Maldives is traditional in style and elegance, a unique holiday resort newly built to ancient Maldivian designs, with graceful meditation pavilions and a calm induced by a succession of ornamental pools. There are contemplative corners of artistic stones, exotic blooms galore in gladed gardens, and shaded avenues of swaying palms. The serenity of the resort is perfectly matched by the uncompromising luxury of its bungalows and villas. Shaded paths lead from one side of this 48-acre circular island to the other. The white sand beach embracing the island is lapped by crystal clear waters of an azure lagoon, protected by eco-breakwaters of weathered coral.
Hotel Amenities
» Banquets & Meetings
» Business Center
» Meeting Space
» Fine Dining on Site
» Fitness Center
» Pool, Outdoor
» Spa Facility
» Tennis Courts on Site
Available Activities
» Beach
» Boating
» Dining
» Ecological Tourism
» Fishing - Ocean
» Hiking
» Jet Skiing
» Jogging & Running
» Sailing
» Scuba Diving
» Shopping
» Theatre & Museums
» Volleyball
» Water Skiing
» Windsurfing