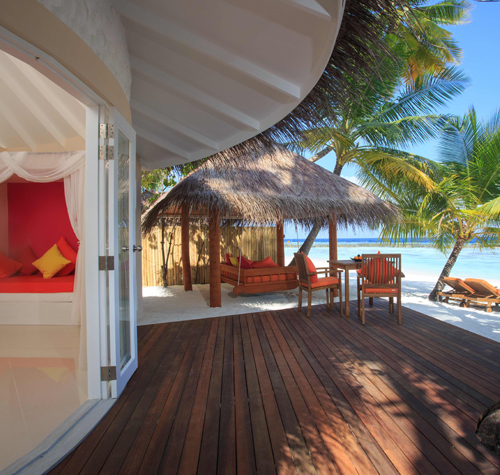 Sun Aqua's island and its neighboring islands nurture a rich enclave of culture and time-honored traditions. The villas of Sun Aqua Vilu Reef give you a bite of island life – a laidback luxury that brims with warmth. If you like a beach scene, there's three villa categories dotted along the sandy shoreline – all freshly refurbished in bright island hues. Or, if you'd like to stay over the lagoon, there's a loop of spacious over water villas, each with far-reaching panoramas of the Maldivian sea. Drift off to sleep to the sound of the waves and dive into the water from your own private jetty.
Organic homegrown produce plus the planet's best ingredients equals a flavorful fusion of progressive world cuisine. Maldivian favorites come to the fore – flame-red curries and sambols with a kick. Then there are Northern Thai dishes to tickle the taste buds, and Italian Tuscan-style home-cooking to warm the soul.
Sun Aqua Spa at Vilu Reef specializes in healing, and deeply rejuvenating rituals with pure, wholesome ingredients that draw on the Earth's organic goodness. The treatment menu includes fragrant flower baths, Ayurvedic rituals, aromatherapy massage, and scrubs.
Hotel Amenities
» Fine Dining on Site
» Fitness Center
» High Speed Internet
» Child Programs
» Pool, Outdoor
» Spa Facility
Available Activities
» Beach
» Boating
» Ecological Tourism
» Jogging & Running
» Sailing
» Scuba Diving
» Water Skiing
» Windsurfing